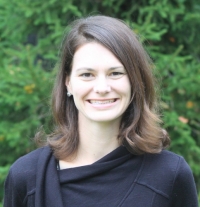 Leah Brogan, PhD is an Associate Fellow at the Center for Injury Research and Prevention (CIRP) at Children's Hospital of Philadelphia (CHOP). She collaborates with colleagues from the Center for Violence Prevention (CVP) on projects related to adolescent behavioral health screening in the emergency department and the effectiveness of a family-based traumatic stress intervention in reducing posttraumatic stress in assault-injured youth receiving services through the Violence Intervention Program (VIP).
Dr. Brogan is also a Stoneleigh Foundation Emerging Leader Fellow in the Juvenile Justice Research and Reform Lab at Drexel University. In this role, she is establishing a technical assistance mentorship team model to support the expansion of the Graduated Response approach to juvenile probation statewide in Pennsylvania. Her research interests include the implementation and dissemination of evidence-based interventions with justice-involved youth to reduce health risk behaviors and violence involvement.
Prior to Drexel, Dr. Brogan completed a postdoctoral fellowship in Psychology with VPI where she worked across several projects focused on hospital-based youth violence prevention and intervention programming in schools and the Philadelphia community. While at VPI, she provided trauma-focused, cognitive behavioral therapy to violently injured youth enrolled in VPI's intensive case management program and coached teachers in implementing an evidence-based bullying prevention program for Philadelphia elementary school students.
Dr. Brogan completed her clinical internship in Juvenile Justice Behavioral Health at Brown University's Alpert Medical School, where she conducted forensic mental health evaluations, behavioral health and substance use assessments and individual and group psychotherapy for court-involved adolescents detained and placed within the juvenile justice system. She holds a BA in Psychology from the University of Pennsylvania and a PhD in Clinical Psychology with a Juvenile Forensic Psychology specialization from Drexel University. Dr. Brogan can be contacted at broganl1@email.chop.edu.
Research Interests
Violence Prevention, Juvenile Justice, Adolescent Health Risk Behaviors
Projects
Addressing Community Violence-related Traumatic Stress Symptoms in Children