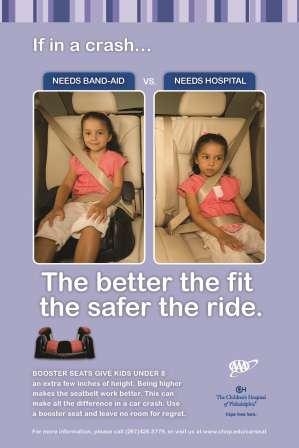 Poster used during AAA's Boosting Restraint Norms
pilot in 2013.
Boosting Restraint Norms (BRN) is a community-based social marketing campaign designed to promote booster seat use among at-risk populations. The American Academy of Pediatrics (AAP) currently recommends that children use a belt-positioning booster seat until the vehicle lap-and-shoulder belt (adult seat belt) fits properly, typically when they reach 4 feet 9 inches in height and are between 8 and 12 years of age. Studies show that booster seat use can reduce risk of injury in a crash by 45 percent over a seat belt alone.
Previous CHOP analyses of Partners for Child Passenger Safety data show that families at risk for non-booster seat use typically involved parents or caregivers of children between the ages of 4 and 8 with any of the following characteristics:
They have a high school diploma or less education
They have lower socioeconomic status (SES)
They are from minority groups (e.g., Latino/Hispanic, African-American)
This generated a line of research overseen by Flaura K. Winston, MD, PhD in partnership with other principal investigators to promote booster seat use.
Promoting Booster Seat Use: Boosting Restraint Norms Research
Study 1 - Identifying Interventions That Promote Booster Seat Use for Parents with Low Educational Attainment (published in 2007)
Phase 1: Formative Focus Groups
A multi-site study used focus groups of a diverse population of parents of 3- to 8-year-olds who never or rarely used appropriate restraints for their children to determine contributing factors to booster seat non-use. A first phase of 10 focus groups (n=117) found that the parents' perceived benefits from boosters included their children's safety and comfort. Perceived threats with non-use were their children being injured in a crash or getting a traffic citation. Lack of education about boosters and fear of injury were the primary barriers to belt-positioning booster seat use. These parents found the "it's the law" messaging to be offensive and indicated they would use booster seats to protect their children, not because it was the law.
Phase 2: Intervention Development
After determining that there were no available resources designed to promote booster seat use that specifically addressed the issues described by the parents in the focus groups, CHOP researchers designed a new intervention. A three-minute motivational video called "No Regrets" told a real family story (as suggested by the focus group participants), concretely described injuries and how they could be prevented, and also included instructions on proper booster seat use. The video combined threat appeal ("your child can be injured") with response efficacy ("boosters protect") and self-efficacy ("boosters are easy to use").
Phase 3: Evaluative Focus Groups
In this final phase, 20 focus groups (n=171) within the target population were exposed to various interventions (including the newly developed "No Regrets" video) and given a booster seat with a demonstration on how to use it. Follow-up phone interviews were conducted six weeks later, with 98.9 percent of participants reporting using boosters on all trips and 74.6 percent reporting telling others about boosters. Participants felt the "Avoid Regret" messaging resonated most and that this intervention alone changed their intentions.
Principal Investigator: Flaura K. Winston, MD, PhD
Funding: National Highway Traffic Safety Administration
Study 2 - Cultural translation: Acceptability and Efficacy of a US-based Injury Prevention Intervention in China (published in 2010)
The purpose of this study was to explore whether the "No Regrets" message and intervention developed in the first study would be effective for a Chinese population. Parents in Beijing, China who owned a car and had children between the ages of 3 and 8 years enrolled in a Beijing kindergarten or elementary school were recruited for the focus groups (n=71). Chinese parents were surveyed in order to identify perceived benefits, disadvantages, facilitators, and barriers to booster seat use. The parents were shown two videos (one specifically designed for a Chinese audience and the other "No Regrets" dubbed and subtitled in Mandarin). Participants were also provided with a booster seat and given education and demonstration on proper use.
Chinese parents indicated that their children's safety was the most important benefit of booster seat use, and the most significant barrier to booster seat use was lack of knowledge. Participants showed immediate motivation to use a booster seat after watching the US-developed knowledge-plus-motivation video ("No Regrets"). Before the focus group discussion, 15.5 percent of parents had used a booster seat for their child, all while traveling abroad with their families. Of those who participated in the follow-up survey six weeks after the focus group (n=62), 85.5 percent reported using a booster seat on their most recent trip with their child. Parents credited the two videos with motivating them to use booster seats, particularly the "No Regrets" video.
Principal Investigator: Flaura K. Winston, MD, PhD; Joan Ozanne-Smith, PhD (Monash University, Melbourne, Australia)
Funding: Center for Child Injury Prevention Studies (CChIPS)
Study 3 - Boosting Restraint Norms: A Community-based Social Marketing Campaign to Promote Booster Seat Use (published in 2013)
Building upon the results of the earlier studies, this phase adapted the intervention ("No Regrets" video and booster seat give-away) into a community-based grassroots campaign. The aim of "Boosting Restraint Norms" (BRN) was to determine if the video/education/free booster intervention, which worked so well in focus groups, could still be effective when scaled up as a social marketing campaign delivered by community partners. Could "No Regrets" increase observed booster seat use in a community with a high prevalence of low-income parents with a lower level of educational attainment? Could the intervention boost norms (typical use) in a community at risk for not using booster seats?
BRN adapted the focus group intervention into community outreach kits (video, posters, flyers, active display) which were distributed to local agencies that the target population frequented. "Booster Champions" at the agencies (elementary schools, WIC, Head Start, community health clinics) were given in-service training about booster seat use and the campaign materials. Parent educational sessions delivered by CPS Technicians about booster seat use were scheduled at schools, daycare centers, and churches. Lastly, a one-time booster seat giveaway event was promoted through flyers distributed at schools and agencies. The campaign was conducted in the intervention community (IC) of Norristown, PA with a control community (CC) of York, PA. Six months after the campaign, the IC had experienced a 28 percent increase in booster seat use over baseline with no change in the CC. Restraint use was also improved among adult caretakers. This study marked the third positive evaluation of the "No Regrets" message to elevate booster seat use.
Principal Investigator: Tyra Bryant-Stephens, MD
Funding: Delaware Valley Regional Planning Commission
Boosting Restraint Norms Dissemination
Study 4 - AAA Dissemination of Boosting Restraint Norms in Three Communities (2012-2013)
CIRP and AAA clubs of Tidewater, VA, Akron, OH, and AAA Southern New England collaborated to disseminate BRN. In 2012, the collaboration created a practice model for BRN that can be used by AAA clubs generally and also maintains the integrity of the campaign piloted in Study 3. The three AAA Clubs implemented the campaign in Spring 2013. Program evaluation conducted by AAA determined that BRN could be successfully implemented in other communities through the AAA federation and, possibly, other community-based groups.
Project Managers: Suzanne Hill and Jennifer Ryan (AAA)
Funding: American Automobile Association