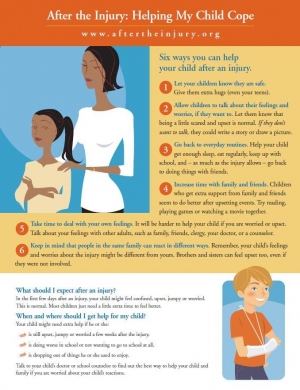 A parent tip sheet from AfterTheInjury.org
Pediatric injury recovery is a challenging process for most injured children and their families and includes both physical and emotional/psychological health and recovery following an injury.
For more than a decade, the Child and Adolescent Reactions to Injury and Trauma (CARIT) research program has conducted studies examining the range of responses that children (and their parents) experience during pediatric injury recovery, including child and parent coping strategies. Our studies have found that psychological distress, including symptoms of posttraumatic stress disorder (PTSD), occurs in significant numbers of children and parents after unintentional injuries, interpersonal violence, and other difficult medical events.
PTSD is defined as a severe anxiety disorder that can develop after exposure to a traumatic event. PTSD is less frequent but more enduring than more commonly seen acute stress disorder (ASD), a psychological response to a traumatic or scary event. Through the CARIT research program, the Center is adding to our understanding of how children and parents manage the emotional impact of pediatric injuries, develop and test screening tools and intervention methods to promote emotional healing, and test ways to integrate these tools into medical care. Current research in pediatric injury recovery focuses on learning more about how children and parents cope with injury, disseminating web-based interventions for parents and clinicians (www.AfterTheInjury.org) and developing a new web-based intervention for children.
The Center is also examining the impact of pediatric disability on families. Physical disability, cognitive disability, and diminished quality of life can have short- or long-term effects on children. While severely disabling injuries can profoundly change a child and create a "new normal" that requires signifiant adaptation and re-integration into society, even seemingly minor function or life impairments following injury can also be very challenging.
Current Areas of Pediatric Injury Recovery Research:
Understanding Children's and Parents' Responses and Coping After Injury
Understanding Children's and Parent's Responses and Coping After Injury
Our studies stem from the experiences of children and parents who are dealing with acute injuries. Research at the Center is advancing the scientific foundation for interventions by understanding how children and parents react and cope after an injury.
Acute Stress Checklist for Children (ASC-Kids) - English and Spanish
This brief measure was developed by our team as a practical way for doctors and mental health professionals to assess children's early psychological reactions after an injury or other acute traumatic event. Our multi-site study in Philadelphia, Los Angeles and Miami is further evaluating ASC-Kids in both English and Spanish and learning more about acute traumatic stress in children.
PTSD after Acute Child Trauma (PACT) Data Archive
Our Center leads this international collaboration archiving previously collected prospective data on PTSD, risk, and protective factors in children following injuries and other acute traumatic events. The Archive will have a continuing impact on child trauma research and treatment because researchers around the world will be able to learn from rich prospective data on pediatric injury recovery across multiple studies and countries. The PACT Archive currently includes data from child trauma studies in the U.S., Australia, and Europe.
Understanding Trajectories of Response and Coping
Funded by the National Institutes of Health's Mentored Patient-Oriented Research Career Development Award (K23), this research focuses on PTSD in children after a medical event and examines the biological, psychological, and environmental factors that lead to PTSD in children after an injury.
Creating and Disseminating Information and Interventions
Evaluation and Dissemination of AfterTheInjury.org
AfterTheInjury.org is CIRP's award-winning website that helps parents help their children recover emotionally from an injury. Our team has evaluated the site's impact on parent knowledge, and we continue to develop and evaluate ways to ensure that parents find the website when they need it.
Secondary Prevention of Traumatic Stress through Pediatric Trauma Care
Our team works with doctors and nurses to develop and evaluate ways to incorporate prevention of traumatic stress and promotion of emotional recovery within pediatric medical settings.
Coping Coach
We have developed a web-based video game that is designed to help children cope after a recent medical event. We are currently testing its feasibility and effectiveness with children at CHOP.
The Cellie Cancer Coping Kit
Designed for pediatric cancer patients by CHOP psychologists, the Cancer Coping Kit includes a stuffed toy named Cellie, cancer coping cards, and a book for caregivers. The Cellie Kit can be used at home, in the clinic or in the hospital and provides children with over 100 tips for dealing with numerous cancer-related stressors, such as medical procedures, hospital visits, and feelings of fear and uncertainty.
Center for Pediatric Traumatic Stress (CPTS)
The Center for Pediatric Traumatic Stress (CPTS) at CHOP addresses medical trauma in the lives of children and families. As part of its mission, the CPTS team seeks to develop and promote empirically based screening and intervention for children and families who have experienced traumatic stress due to pediatric illness and injury, as well as develop and disseminate resources about coping with traumatic stress to ill and injured children and their families.
Improving Acute Care and Physical Recovery After Injury
Anticipated Increases in Medically Attended Injuries by Children and Young Adults
This research indicates that the implementation of policies that encourage more people to get health insurance will come along with a substantial increased demand for medical treatment of mild and moderate injuries. Researchers found that the causes and nature of medically attended injuries differed between insured and uninsured young adults and make several recommendations of how health care systems can manage the potential increase in patients.
Functional Disability Following Pediatric Trauma
In children, functional disability from trauma is far more common than death. This line of research investigates the nature of these disabilities. Its findings may contribute to new designs of child safety seats or public policy to mitigate these injuries in motor vehicle crashes. One published study focuses on residual physical disability after inpatient rehabilitation for children 7 to 18 years old with traumatic injuries. Another published study focuses on residual cognitive disability after inpatient rehabilitation for children 7 to 18 years old with traumatic injuries.
Concussion and Head Injury Research
CIRP researchers are builidng a broad portfolio of research to advance the field's understanding of child and youth concussion and to fill in gaps in knowledge that hinder development of better prevention and treatment stratgeies.