Research In Action
Research In Action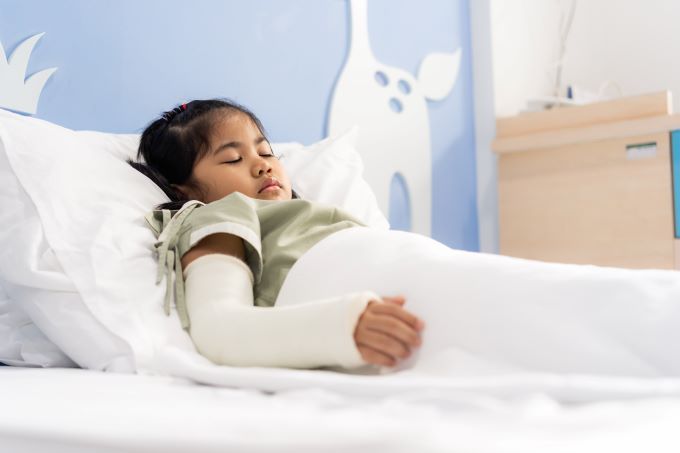 New Guidelines for Screening After Pediatric Injury
An accident or injury can be a very frightening and stressful experience for children and their families. In the first few days after an injury, it is common for nearly all children to feel upset, on edge, or worried at times. While these reactions often improve within a few weeks, 5 in 6 injured children have acute traumatic stress and 1 in 6 of these children may develop persistent PTSD symptoms. Early screening and support can help support coping but how do healthcare providers best screen injured patients and what is required of them?
The American College of Surgeons (ACS) recognizes the importance of integrating attention to psychological and emotional consequences of injury within pediatric trauma care. In its most recent standards for verification and review of trauma centers (section 5.29), the ACS states that trauma centers must have:
a structured mental health screening and referral protocol [Level I and II centers] or
a clear mental health referral process [Level III centers]
Trauma centers responding to the ACS guidelines need to know how to implement evidence-based screening and referral processes. The Center for Pediatric Traumatic Stress has partnered with the Pediatric Trauma Society (PTS), the Eastern Association for the Surgery of Trauma, and the Society for Trauma Nurses in a formal evidence review process to develop GRADE-based practice management guidelines regarding mental health screening in pediatric injury patients. This team hopes to share the findings of this project later in 2023.
While awaiting additional guidance from this GRADE project, many trauma centers must integrate mental health screening and referral protocols in order to meet ACS guidelines that go into effect this month (September 2023). To help meet this need, CPTS expanded information on HealthCareToolbox.org about screening after injury. We now provide information on screening tools and procedures and a quick summary comparing the evidence base for currently available tools on our website. CPTS recommends screening all patients with pediatric injury in order to ensure equity in care; universal screening for PTSD symptoms ensures all pediatric patients and their families receive the level of support they need.
In selecting a screening tool, CPTS believes that the following are essential:
Screening tool performance has been evaluated with injured children in a medical setting.
There is evidence that the screening tool detects concurrent psychological distress and/or predicts persistent, ongoing distress.
The tool is feasible for use in an ED or inpatient setting, i.e., time to administer, ease of scoring.
Evidence-based scoring guidelines are provided, i.e., with the meaning of a positive screen described so that the healthcare team can take appropriate action (e.g., monitor, assess further, refer for mental health services).
These additional items are highly desirable:
Multiple studies provide evidence for prediction of concurrent or future / ongoing psychological distress.
There is evidence for prediction of broader spectrum of distress - e.g post-traumatic stress, depression, anxiety, behavioral difficulties, impact on functioning.
Demonstrated feasibility and utility of the tool based on real world use in multiple settings.
The tool has been evaluated in, and has evidence for good performance with, injured patients similar to those you see in your setting (e.g., age, culture, language, injury types and severity).
For trauma centers needing additional support around screening that is not addressed on our website, please email us. We also recommend attending the consultation hours provided by the Pediatric Trauma Society (available to PTS members only). Please check back in coming months for the findings of our GRADE project as well.
Additional resources related to pediatric injury and medical traumatic stress include:
Infographics created by CPTS for Pediatric Trauma Society:
Click here for more information on when and how to make a mental health referral.