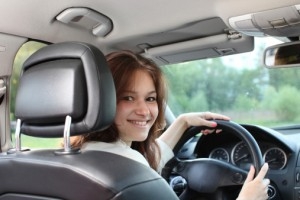 The Teen Driving Safety Research team at CIRP is currently conducting research on driving with a developmental disability to examine rates of licensure and risk of crashing for adolescents to help establish the epidemiologic foundation for future translational research. Two-thirds of high functioning adolescents with autism spectrum disorder (ASD) of legal driving age are either currently driving or plan to drive, according to research conducted at CIRP.
This unique program of research on driving with a developmental disability is led by Allison E. Curry, PhD, MPH, a senior scientist and director of Epidemiology and Biostatistics at CIRP and a  faculty member at the Perelman School of Medicine at the University of Pennsylvania's Master of Public Health program. Her research involves linking data from two sources: 1) electronic health records for over 114,000 CHOP patients born between 1987 and 1995 in NJ, and 2) the New Jersey Safety and Health Outcomes (NJ-SHO) Data Warehouse, a rich unique database that includes the full licensing, citation, and crash history of every NJ driver. The research is being conducted in collaboration with the Center for Autism Research at CHOP and the Center for Management of ADHD at CHOP.
Teaching Autistic Adolescents and Young Adults to Drive: Perspectives of Specialized Driving Instructors
This study published in the journal Autism in Adulthood examined specialized driving instructors' perspectives and experiences of teaching autistic adolescents and autistic young adults to drive. The researchers conducted semi-structured interviews with 17 instructors and then transcribed the interviews, coded them, and summarized common themes. The results emphasize the importance of parents in supporting their autistic adolescents in making the decision to drive and learning to drive, as well as supporting and prioritizing the development of independent life skills, such as mowing the lawn, cooking, and taking public transportation, long before getting behind the wheel.
According to the research, best practices to inform assessment and instructional approaches are urgently needed to help guide these professionals in teaching this special population of drivers. However, driving instructors also recognize that specific approaches will necessarily be tailored to meet the individual and unique needs of each autistic adolescent driver. Future research will explore the knowledge and needs of healthcare providers, who are often a trusted resource for families as their autistic adolescents transition to adulthood, as well as the knowledge and needs of parents and autistic adolescents. With this knowledge, tools can be developed to promote driver readiness and enhance the learning-to-drive process.
Principal Investigator: Rachel K Myers, PhD, MS; Funding: Eunice Kennedy Shriver National Institute for Child Health and Development
Read a blog post about the research.
Examination of Driving Outcomes Among Autistic Adolescents
This study, published in the journal Autism, found one in three autistic adolescents acquire an intermediate driver's license, and the majority does so in their 17th year. The vast majority of autistic teens who receive a learner's permit go on to receive their license within two years after becoming eligible, suggesting that families are making the decision of whether their autistic adolescents will learn to drive and pursue a license before getting behind the wheel with a learner's permit.
Researchers conducted a unique linkage of more than 52,000 electronic health records (EHR) of children born from 1987 to 1995 and NJ driver licensing data to determine current rates and patterns of licensure among autistic adolescents (without intellectual disability) and those without autism. This is the first large-scale study to provide detailed information on the number of autistic adolescents who are licensed and the rate at which they progress through the Graduated Driver Licensing (GDL) system. Nearly 90 percent of autistic adolescents holding learner's permits received an intermediate license within two years, at a median rate of 9.2 months later than other adolescents.
This study provides evidence to support the development of interventions to meet the unique needs of autistic adolescents who want to drive.
Read a blog post about the research.
Watch a Medscape video about what clinicians should know.
Longitudinal Study of Traffic Crashes, Violations, and Suspensions Among Young Drivers with ADHD
Building on a previous JAMA Pediatrics study described below that found crash risk for adolescent drivers with attention-deficit/hyperactivity disorder (ADHD) is much lower than previously reported, this study published in Pediatrics implemented a unique linkage of more than 14,900 electronic health records of children who got licensed during the study period with NJ driver licensing, traffic violations, and police-reported crash data. Within this group the researchers identified 1,769 adolescents with childhood-diagnosed ADHD and compared their crash outcomes and traffic and moving violations with those of the drivers without ADHD. 
They found that young drivers diagnosed with ADHD are significantly more likely to crash, be issued traffic and moving violations, and engage in risky driving behaviors than their peers without ADHD. Although crash risk is elevated for all newly licensed drivers, the study team found it is 62 percent higher for those with ADHD the first month after getting licensed, and 37 percent higher during the first four years after licensure, regardless of their age when licensed. Drivers with ADHD also experienced higher rates of specific crash types, including driving with passengers, at-fault-, single vehicle-, injury- and alcohol-related crashes, the last risk being 109 percent higher than those without ADHD.
Comprehensive preventive approaches that extend beyond current recommendations are critically needed. To help inform these recommendations, the research team plans to conduct additional prospective research to better understand what happens right before adolescents with ADHD crash and the specific mechanisms by which ADHD symptoms influence crash risk. 
Read a blog post about the research.
Principal Investigator: Allison E. Curry, PhD, MPH; Funding: Eunice Kennedy Shriver National Institute for Child Health and Development
Motor Vehicle Crash Risk Among Adolescents and Young Adults with ADHD
Published in JAMA Pediatrics, this is the first large-scale study to provide detailed information on the proportion of adolescents with ADHD who acquire a driver's license and their crash risk as compared with other newly licensed young drivers. Researchers followed a cohort of 18,522 primary care patients at CHOP who were born from 1987 through 1997 and linked their electronic health data with New Jersey driver licensing and crash data. They identified 2,479 adolescents with ADHD and 15,856 adolescents without ADHD who were age-eligible for licensure to determine the association between ADHD and driver licensing. Looking at only those licensed (1,785 with ADHD and 13,221 without ADHD), researchers analyzed factors related to crash involvement, such as gender, licensing age, and/or being prescribed medication 30 days before getting licensed.
After acquiring a driver's license, adolescents with ADHD have an estimated 36 percent higher motor vehicle crash risk than other newly licensed teens. This risk persists during their initial driving years, regardless of gender or age when licensed. Although elevated, this risk is far lower than the commonly reported estimate as four times higher.
Based on EHR data, only 12 percent of the drivers with ADHD had been prescribed an ADHD medication by a CHOP doctor in the 30 days before getting licensed.
More research is needed to help better quantify how ADHD affects crash risk to develop effective programs to manage that risk.
Read a blog post about this driving with a developmental disability research
Watch a Medscape video about what clinicians should know about driving with a developmental disability
Principal Investigator: Allison E. Curry, PhD, MPH; Funding: Eunice Kennedy Shriver National Institute for Child Health and Development; CHOP Foerderer Grant for Excellence