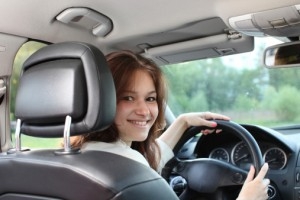 The Teen Driving Safety Research team at CIRP is currently conducting research on driving with a developmental disability to examine rates of licensure and risk of crashing for adolescents to help establish the epidemiologic foundation for future translational research. Two-thirds of high functioning adolescents with autism spectrum disorder (ASD) of legal driving age are either currently driving or plan to drive, according to research conducted at CIRP.
This unique program of research on driving with a developmental disability is led by Allison E. Curry, PhD, MPH, a senior scientist and director of Epidemiology and Biostatistics at CIRP and a  faculty member at the Perelman School of Medicine at the University of Pennsylvania's Master of Public Health program. Her research involves linking data from two sources: 1) electronic health records for over 114,000 CHOP patients born between 1987 and 1995 in NJ, and 2) the New Jersey Traffic Safety Outcomes Program database, a rich unique database that includes the full licensing, citation, and crash history of every NJ driver. The research is being conducted in collaboration with the Center for Autism Research at CHOP and the Center for Management of ADHD at CHOP.
Examination of Driving Outcomes Among Adolescents with Autism Spectrum Disorder
This study, published in the journal Autism, found one in three adolescents with autism spectrum disorder (ASD) acquires an intermediate driver's license, and the majority does so in their 17th year. The vast majority of teens with ASD who receive a learner's permit go on to receive their license within two years after becoming eligible, suggesting that families are making the decision of whether their children with ASD will learn to drive and pursue a license before getting behind the wheel with a learner's permit.
Researchers conducted a unique linkage of more than 52,000 electronic health records (EHR) of children born from 1987 to 1995 and NJ driver licensing data to determine current rates and patterns of licensure among adolescents with ASD (without intellectual disability) and those without ASD. This is the first large-scale study to provide detailed information on the number of adolescents with ASD who are licensed and the rate at which they progress through the Graduated Driver Licensing (GDL) system. Nearly 90 percent of learner's permit holders with ASD received an intermediate license within two years, at a median rate of 9.2 months later than other teens.
This study provides evidence to support the development of interventions to meet the unique needs of adolescents with a developmental disability like ASD who want to drive.
Read a blog post about the research.
Watch a Medscape video about what clinicians should know.
Motor Vehicle Crash Risk Among Adolescents and Young Adults with ADHD
Published in JAMA Pediatrics, this is the first large-scale study to provide detailed information on the proportion of adolescents with ADHD who acquire a driver's license and their crash risk as compared with other newly licensed young drivers. Researchers followed a cohort of 18,522 primary care patients at CHOP who were born from 1987 through 1997 and linked their electronic health data with New Jersey driver licensing and crash data. They identified 2,479 adolescents with ADHD and 15,856 adolescents without ADHD who were age-eligible for licensure to determine the association between ADHD and driver licensing. Looking at only those licensed (1,785 with ADHD and 13,221 without ADHD), researchers analyzed factors related to crash involvement, such as gender, licensing age, and/or being prescribed medication 30 days before getting licensed.
After acquiring a driver's license, adolescents with ADHD have an estimated 36 percent higher motor vehicle crash risk than other newly licensed teens. This risk persists during their initial driving years, regardless of gender or age when licensed. Although elevated, this risk is far lower than the commonly reported estimate as four times higher.
Based on EHR data, only 12 percent of the drivers with ADHD had been prescribed an ADHD medication by a CHOP doctor in the 30 days before getting licensed.
More research is needed to help better quantify how ADHD affects crash risk to develop effective programs to manage that risk.
Read a blog post about the research
Watch a Medscape video about what clinicians should know
Principal Investigator: Allison E. Curry, PhD, MPH; Funding: Eunice Kennedy Shriver National Institute for Child Health and Development; CHOP Foerderer Grant for Excellence