Research In Action
Research In Action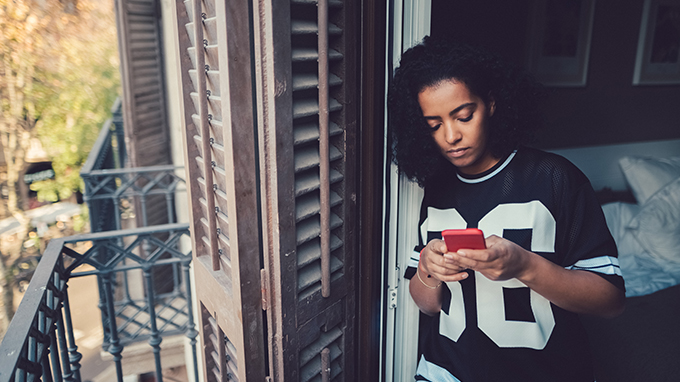 Teen Dating Violence and Digital Abuse During the COVID-19 Pandemic
It is not surprising that intimate partner violence has elicited concern and media coverage during the COVID-19 pandemic. Partners are stuck at home together, stress has increased, and survivors are more isolated than ever before. But why should we be thinking about teen dating violence (TDV)? Teens are staying at home, many schools are virtual, and they are supposed to be social distancing. So, if anything, shouldn't we be seeing a decrease in TDV since the pandemic started? Sadly, we cannot claim this benefit for adolescents during the COVID-19 crisis.
1 in 3 young people experience TDV, and dating violence has negative immediate and long-term effects. Research shows that victims of TDV are 2 to 3 times more likely to commit suicide, report increased alcohol and substance use, and suffer from increased rates of anxiety and depression. As the world has become more virtual, digital abuse has also increased.
What Is Digital Abuse?
Digital abuse is a tactic of abuse that uses digital platforms, social media, or technology to gain or maintain power and control over an intimate partner. Examples of digital abuse are:
Logging into or using a young person's social networking account without permission
Sending unwanted sexual messages or pressuring a young person to send sexual or naked photos
Monitoring a young person's activity or other conversations online; preventing a person from talking to friends or having conversations with anyone besides them
Spreading rumors about a young person via text message, email, or social media or posting embarrassing photos of a young person online
Creating a false profile page using the victims' name to control them
Threatening or harassing a young person over the phone or social media
Using GPS locators from social media platforms to stalk a young person
In a 2013 randomized study, the Urban Institute surveyed 5,647 youth and found that "victims of digital abuse and harassment are 2 times as likely to be physically abused, 2.5 times as likely to be psychologically abused, and 5 times as likely to be sexually coerced." Additionally, 94% of digital abuse victims were also victims of sexual, physical, and emotional abuse by a dating partner. This means that the digital methods were just one of the tactics used by an abusive partner.
We cannot assume that the effects of digital abuse will be less detrimental to teenagers' well-being simply because they are supposed to be social distancing. Even for those complying with distancing guidelines, virtual relationships exist. Since social connections are limited, the type and quality of those connections are critical, and the ramifications of dating abuse are still real.
What Can Providers Do to Address TDV?
Many young people do not know how to talk about the abuse they are experiencing. They may not realize that digital abuse is a form of abuse or may be unsure how to discuss physical or emotional abuse with their provider. We cannot wait for a teenager to bring up the topic. Here are some suggestions on how to address TDV with adolescent patients:
Ask direct questions. It's critical to continue to ask young people about their relationships during the COVID-19 pandemic, whether through in-person or telemedicine appointments. Include questions about physical, sexual, emotional and digital abuse.
Encourage young people to keep passwords and social media pages private. Never normalize 'jealousy' as an excuse for controlling behavior. Start a conversation about online privacy and boundaries in relationships.
Provide loveisrespect.org as a free and confidential resource for teenagers who seek to understand relationship dynamics.
For more ways on how to assess and address TDV, check out a previous blog on dating violence here.