Research In Action
Research In Action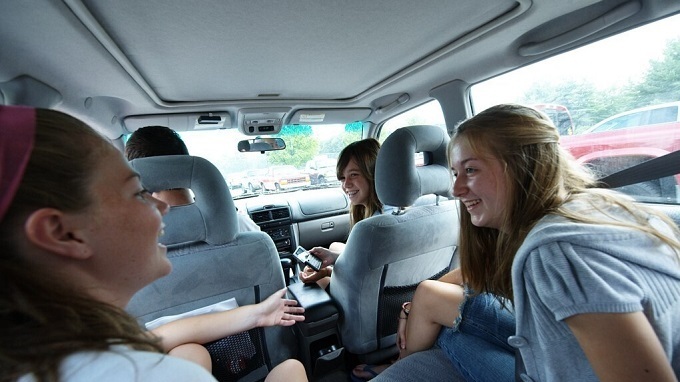 Good Passengers and Not Good Passengers…
Although we talk a lot about how dangerous cell phones are while driving (and they are!), peer passengers are also a major risk factor for teen driver inattention. Distracted driving may be a crash risk for all but especially for inexperienced teen drivers when peers are in the car. To better understand how teens perceive these risks, we conducted a series of focus group sessions with 30 newly licensed teen drivers ages 16 to 18.
We used the Theory of Planned Behavior, which has been shown to work in other high-risk areas to change teen health behavior, including alcohol use and smoking, to guide our interviews and analysis. We identified teens' attitudes, perceived behavioral control, and norms about peer passengers and inattention to the roadway, and our findings were recently published in the Journal of Pediatric Nursing.
Three themes emerged that can later guide researchers to develop behavior change interventions to provide strategies for encouraging focused attention while driving, including limiting and managing peer passengers:
"Good and not good" passengers. The focus group data showed that the presence of peer passengers may act as a protective factor for teen drivers, particularly when they help with technology (GPS, cell phones, music). However, teen drivers can also view peer passengers as detrimental when they play the music too loud or distract with Snapchats or other cell phone use.
 
Passengers and technology as harmful and helpful. While peer passengers can be a source of distraction, teen drivers also believe that they can reduce crash risk by assisting with technology and offering guidance for directions.
 
The driver is in charge. Participants described being in control of their car and how they make the decisions about peer passenger behaviors to increase or decrease risk.
Promote Safe Driving Behaviors
These themes point to ways families and clinicians can promote safe driving behaviors with novice teen drivers. Parents can continue to discuss and enforce Graduated Driver Licensing (GDL) restrictions that limit peer passengers and nighttime driving, as well as prohibit cell phone use. Parents can help their teens be good passengers: respecting the driver's responsibility, not being distracting, helping the driver if asked, and always using a seat belt. As they hand over the keys, parents can also help their teen drivers set expectations for safe passenger behavior.
Given their important role in adolescent health, nurses are in a unique position to provide "teachable moments" about teen driving safety. Whether in primary care, high schools, or emergency departments, they can screen for risky driving behaviors, share educational resources, and discuss how parents need to stay involved with their teens' driving, insist on the one passenger rule, and ban the use of cell phones in the car.
Along with other CIRP@CHOP researchers, I am working to develop behavior change interventions that include strategies to encourage focused attention as drivers on every trip, every time. Through outreach and education, we can help teens avoid driving distracted, be in control of the car, and be a "good" passenger.