Research In Action
Research In Action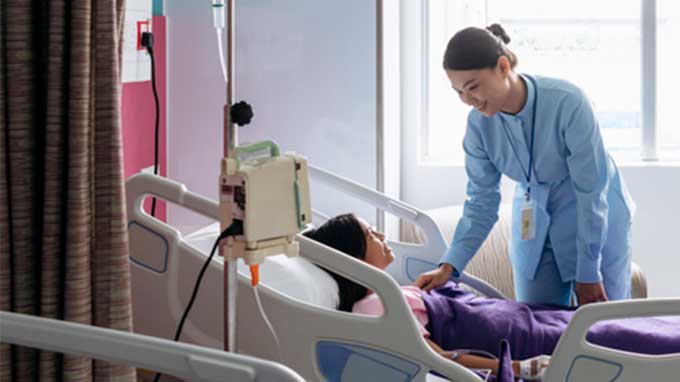 When Triage Nurses Are First Line of Defense for Head Trauma
On a daily basis, nurses are the last line of defense for a patient. This can mean closely monitoring vital signs to make sure they are stable in an acutely ill patient, or checking medication calculations for dosages before administration. It's also important to recognize that nurses are often also the first line of defense-- as triage nurses.
Triage nursing is critically important, especially while COVID-19 social distancing orders are in place. In triage, nurses evaluate whether a patient should head directly to the emergency department or urgent care, schedule an appointment for primary care, or manage symptoms from home, all based on available screening tools.
At CHOP, the nurse triage system serves as an important point of contact for patient families whose primary care provider is in the CHOP Care Network. It helps parents make decisions about the next steps for their injured or sick child.
As a member of the Minds Matter Concussion Program research team and faculty at the PENN School of Nursing, I wanted to work with my concussion research colleagues to examine what happens when parents call in to the nurse triage system with concerns about their child's head trauma. Do they follow up with the recommendations they were given for appropriate head trauma care? Do their children access the care that was recommended? How often is a concussion then diagnosed?
Methods and Dataset
To create our dataset, we queried CHOP's integrated pediatric health care system's electronic health record (EHR) for calls to the primary care telephone triage system. (Minds Matter has been utilizing CHOP's EHR to analyze and describe the natural history of concussion in children and adolescents, publishing extensively on this in scientific journals.) 
We searched the EHR for calls that used the Barton Schmitt Pediatric Head Injury Telephone Triage Protocol template during a recent 1 year period and identified 5,045 patients ages 17 years or younger that met the criteria for the analyses. The Barton Schmitt Pediatric Head Injury Telephone Triage Protocol contains decision support tools that triage nurses can use to guide the caller to the most appropriate medical care for the child. 3,096 calls were received during "Office Hours" and 1,949 were received "After Hours."
Caregivers Do Follow Nurse Triage Recommendations
First, we were impressed by the sheer volume of calls fielded by nurses in the triage system for head trauma – more than 5,000 went through the triage protocol in just one year!
We first grouped the calls by whether they came in during Office Hours or After Hours. The study team then grouped the potential recommendations for head trauma into "Emergent" (e.g., call 911, go to emergency department or urgent care) and "See < 24 hours" (e.g., see same day or within 24 hours in primary care provider's office). We then looked at what proportions followed up in the CHOP health care system.
We found that the highest proportion to follow up in our sample was among those calling during office hours with a recommendation to "See < 24 hours"– an estimated 91.9% of this group followed their recommendation. Those who called after hours and received the recommendation to "See < 24 hours", had less follow through—an estimated 65.3%. This variation might be due to greater ease for the family to get to the provider's office when calling during Office Hours versus After Hours. Additionally, when calling After Hours and having time to sleep on it, symptoms may have improved overnight.
We saw that fewer in group "Emergent" were seen at CHOP, but that may have been due to families having gone to non–CHOP facilities closer to their home and that their visits may not have been updated in their EHR at CHOP. But for patients told to seek "Emergent" care, we still estimated that 76.4% of Office Hours callers and 78.5% of After Hours callers sought this care for their child.
In total, the estimated proportion of patients seen in follow up by any provider (CHOP or outside CHOP) was 84.1%. This was impressive to see a high proportion of families following the nurse triage recommendations. Among these patients, 39.5% were diagnosed with a concussion by the provider.
Call to Action
The nurse telephone triage system is a point of care where families can receive not only anticipatory guidance and one-on-one education, but also "real-time" guidance to get patients on the right path to proper assessment and intervention and should be considered an important component to improve patient compliance and outcomes. We often think of nurses as the last line of defense in patient care—such as preventing a medication error, identifying a patient whose blood pressure is declining or determining the appropriate level of healthcare provider intervention after an injury. The nurse triage system is a way that nurses can be on the front line with patients and families—a first line of defense in promoting pediatric health.
Click here to read the study abstract.