Research In Action
Research In Action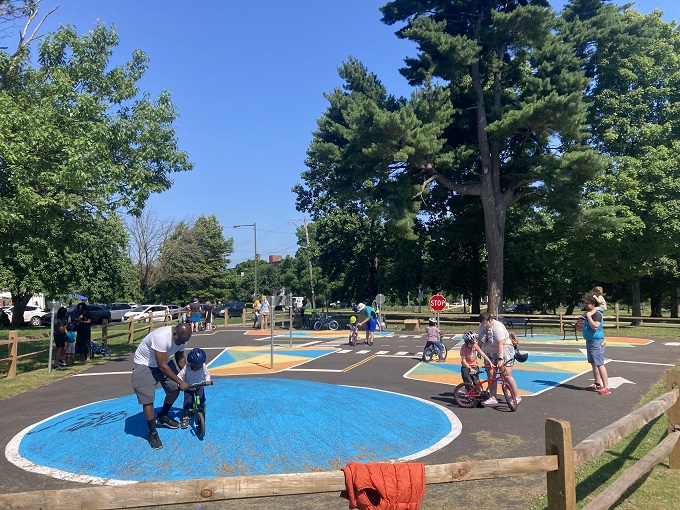 Using Traffic Gardens to Teach Road Safety
As a Vision Zero community, the city of Philadelphia seeks to eliminate all traffic deaths and serious injuries. Young people, in particular, are vulnerable roadway users: on average, five children in Philadelphia experience a traffic crash every day, and a quarter of the city's pedestrian crashes involve one or more individuals under age 19. Slower speeds, safer vehicles, and safer streets – these aspects of a safe system approach can keep children safe so they can travel to school, the playground, or a friend's house without fear. By learning how traffic safety works using traffic gardens, children can learn how to become responsible road users.
Traffic gardens are playgrounds that are built with 'kid-sized' roads, stop signs, bike lanes and intersections to encourage children to have fun while learning the rules of the road. First created in Europe in the 1950s to give kids a fun way to learn about road safety, they have expanded to many bike-friendly places such as the Netherlands, Denmark, and Germany. Some of the more elaborate versions feature actual working stoplights and are staffed by instructors.
Bringing Traffic Gardens to Philadelphia
The Bicycle Coalition of Greater Philadelphia (BCGP) collaborated with the City's Parks & Recreation Department to open the Lil' Philly Safety Village in August of 2021. Inspired by BCGP Executive Director Sarah Clark Stuart's trip to Copenhagen, Denmark, and located in the Hunting Park section of North Philly, this special space is for kids and adults alike to practice biking, rolling and walking in a colorful, playful area completely free of motor vehicle traffic. The miniature bike lanes, crosswalks, stop signs and other traffic markers help the "safety villagers" learn to move through urban street space. Children age 12 and older can test their new skills on the sidewalks and street loops of the surrounding park.
Since the traffic garden opened, the Bicycle Coalition has offered nearly 100 safety villagers free bike helmets and instruction on safe fitting, bike lights, and learn to ride classes. In addition, the village has hosted open bike safety activities, as well as family bike resource fairs (including a partnership with Safe Routes Philly).
Lots of community involvement and the support of Philadelphia's Parks and Recreation Department was crucial in planning and executing Li'l Safety Village, and the Bicycle Coalition continues to partner with other neighborhood organizations committed to youth empowerment and safety to deliver quality programming.
Young people have an important role to play in Vision Zero, and traffic gardens provide a fun and safe environment for children to learn about traffic safety. For additional information, check out the following resources:
The Safe Routes Philly Traffic Garden Guide shares how to create a community traffic garden.
Philadelphia has developed the Safe Routes Philly program to involve children and their caregivers in traffic safety. Free resources, games, and tools are available here.