Research In Action
Research In Action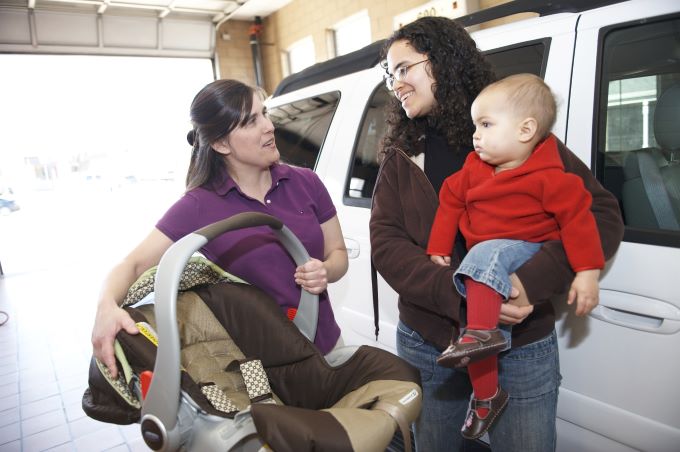 The Powerful Impact of Car Seat Experts
Previous research at CIRP found that caregivers learn about child restraints, such as car seats and booster seats, using many different types of information sources, including their child's primary care physician; Child Passenger Safety Technicians (CPSTs); the car seat manual; family members or friends; and online content. Interestingly, researchers found that exposure to primary care physicians and CPSTs might have a particularly powerful impact on increasing correct car seat use, even if the information sources were not directly related to correct car seat use or installation.
In our new study, funded by the Center for Child Injury Prevention Studies (CChIPS) and published in Accident Analysis & Prevention as part of the special issue for the Association for the Advancement of Automotive Medicine's 67th Annual Meeting, we wanted to expand these findings to explore if caregivers' information sources impacted appropriate child restraint use (i.e., choosing developmentally appropriate seats for children, such as rear-facing for infants or booster seats for 7-year-olds).
We surveyed 1,302 caregivers about their car seat and booster seat use, as well as what information sources they used to learn about child passenger safety (CPS) topics; to our knowledge, this was the first study to look at how sociodemographic differences may impact how caregivers learn about CPS topics. Our findings echo the previous studies: information sources were not related to whether children were appropriately restrained. Yet, many more caregivers—especially those who identified themselves as Black or Hispanic, had obtained less education, and/or were younger (all of whom tend to have higher rates of child restraint misuse)—had their children appropriately restrained if they reported that they learned about car seats and booster seats from primary care physicians and/or CPSTs. Caregivers from these groups also reported using these sources less frequently when compared to their counterparts.
Importance of Access to CPS Experts
Based on these results, we believe that future work should explore how to increase access to and use of CPS experts (primary care physicians, CPSTs). This recommendation is based on our results and those from other studies suggesting differential access to/use of child passenger safety experts, that caregivers seem to want to use CPSTs in the future, and that their use, as well as pediatricians, appears to increase rates of appropriate use (especially among groups in which we tend to see lower rates). As prior CIRP research revealed important gaps in knowledge concerning CPS best practice recommendations, additional training for pediatricians may also be valuable.
When developing interventions to increase correct and appropriate child restraint use, it may be particularly useful to consider Community-Based Participatory Research approaches. Tailoring materials, approaches, and resources to specific audiences would address previously cited flaws in child restraint interventions. Training trusted community members as CPSTs would be one potential method within this approach to increase caregivers' access to desired experts.
It was heartening to see that the majority (91%) of children reported on were appropriately restrained; the challenge facing the research, public policy, and medical communities is closing that remaining gap to optimally protect all children on US roadways.