Research In Action
Research In Action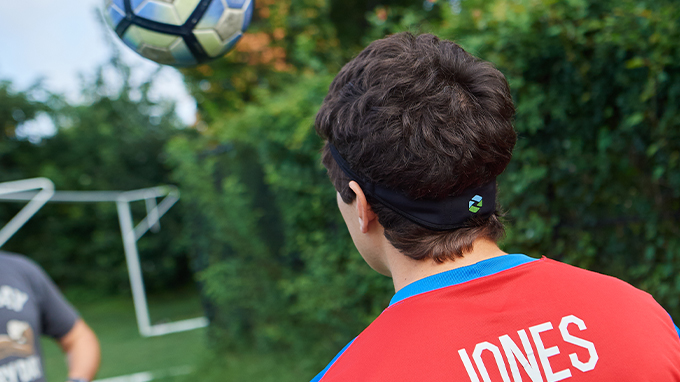 Evaluating Head Impacts in High School Sports
There is growing concern for the effects of repetitive head impacts in sports even without a diagnosed injury. Repeated head impacts have been linked with short-term cognitive deficits. I recently published "Sport- and Gender-Based Differences in Head Impact Exposure and Mechanism in High School Sports" in the Orthopaedic Journal of Sports Medicine with colleagues from CHOP's Minds Matter Concussion Program and the Center for Injury Research and Prevention.
The goal of this study was to measure gender differences in head impact exposure and identify sport-specific strategies to reduce repetitive head impacts and lower risk of head injury in sport.
In this study, head impact rate and mechanism were tracked using instrumented headband impact sensors during games for two seasons of high school girls and boys varsity soccer and one season of basketball, lacrosse, and girls field hockey. This is one of the largest studies of its kind – across multiple sports and both genders – and applies rigorous video confirmation methods to ensure accurate data (click here to find out more). Further, this is the first study to analyze head impacts in basketball and field hockey despite a substantial head injury risk.
The main head impact rate and mechanism findings are listed below, and I encourage you to read the full article for greater detail.
Head Impact Rates
Boys consistently had higher head impact rates than girls in the same sport:

Up to 13 times higher in lacrosse

Of the sports studied, soccer had the highest head impact rate for both boys and girls:
Basketball had a surprisingly high head impact rate:

Boys basketball had a similar rate to lacrosse, a collision sport requiring a helmet.
Girls basketball had a higher rate than lacrosse and field hockey.
Future research needs to reconcile the higher concussion rate for girls in soccer and basketball compared to boys playing the same sport with the lower head impact rate reported in this study.
Head Impact Mechanisms
It's important to recognize that all head impacts are not created equal, so future studies need to explore the severity of head impacts. For example, lacrosse and basketball may have similar impact rates, but the severity of impacts in lacrosse may be higher. This starts with the identification of impact mechanism detailed below:
80% of soccer head impacts were intentional headers:

Soccer had similar head impact rates to lacrosse and basketball when intentional headers were removed.

90% of head impacts in basketball were due to player-to-player contact:

This indicates the physicality of the game and close player proximity.

More than 25% of lacrosse impacts were caused by contact with equipment (stick or ball)

These hard object impacts are unique to lacrosse as they are less than 2% of impacts in soccer and basketball.
80%
of soccer impacts were from intentional headers
90%
of basketball impacts were from player-to-player contact
25%
of lacrosse impacts were from equipment contact
Personal Athletic Experience
As a multisport athlete participating in soccer and basketball throughout my youth, I am not surprised to find that soccer had the highest head impact rate. I distinctly remember practicing headers multiple times a week and avoiding headers on long kicks due to immediate discomfort. I found it surprising to see how high the impact rate was for player-to-player and player-to-ground impacts in both soccer and basketball.
Other than a few memorable impacts leading to minor concussion-like symptoms in soccer, I do not recall experiencing head impacts very often. I have already seen how policy change in soccer (i.e., no heading under the age of 12) and football (i.e., limiting padded contact practices) has decreased head impact exposure.
With a broader focus on other sports and specifically female athletes, I hope this study will highlight methods to reduce head impact exposure and risk of head injury.