Research In Action
Research In Action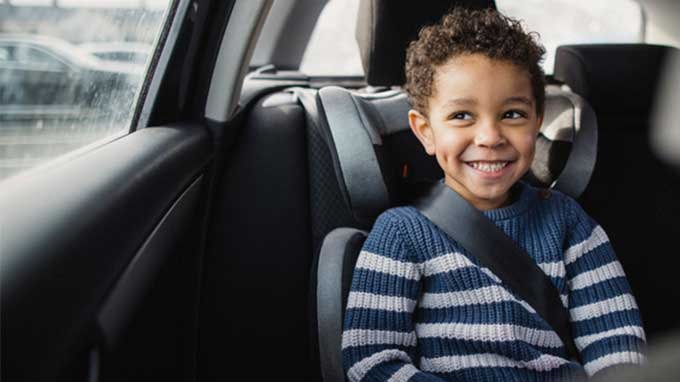 Surveying Parents and Caregivers About Their Child Restraint System Use
Inconsistent or non-use of child restraint systems (CRS) has been established as increasing a child's risk for injury or death in the event of a crash. To better understand why some parents and caregivers of 4- to 10-year-olds do not always use the appropriate CRS, particularly booster seats, our research team conducted an online survey.
Through this survey, we collected data on parent and caregiver utilization of CRS, carpooling behaviors, and distracted driving behaviors. Our findings were recently published in the International Journal of Environmental Research and Public Health.
The 4- to 10-year-old age range was selected for this study in part because this time period can represent several points of transition in terms of child occupant safety, from a forward-facing CRS to a booster seat to an adult seat belt. The study, sponsored by the Center for Child Injury Prevention Studies (CChIPS), helps us better understand why some parents and caregivers do not always follow optimum child passenger safety guidelines, including parents who carpool other children than their own, as well as parents who allow their children to be carpooled by others.
Two major findings were a bit surprising. First, many parents reported being more willing to not fully buckle their child into his or her CRS in practical situations. Second, we found that parents who used a booster seat for their child were more willing to have their child not fully buckled into the CRS than car seat users in the following situations:
involving rental cars
driving "just around the corner"
when there were not enough CRS in the car
when the child was in someone else's car
Carpooling Safety
We also examined booster seat use in carpooling situations. Even among parents who typically use booster seats, only 71.7 percent reported always using a booster seat for their own child when carpooling other children, and only 67.5 percent reported always asking others to have their child ride in a booster seat when carpooling with others.
Our results highlight the importance of parents and caregivers asking others who are transporting their children the following questions:
What type of CRS will be used for their child for the trip?
Is there a booster seat available to safely transport my child in the vehicle?
If there is not a booster seat available, may I provide you with one?
Promote Optimum CRS Use
During National Child Passenger Safety Week #CPSWeek, which runs from September 23-29, pediatricians should remind families to follow the latest child passenger safety guidelines from the American Academy of Pediatrics and to get tips on CRS installation from CHOP experts at Car Seat Safety for Kids. Engaging with parents in the healthcare setting can improve awareness among parents and caregivers around when and how to use CRS to help keep their kids safe.
Continued education and programs surrounding CRS use is critical, particularly for children who should be in booster seats. Given advancing technology in vehicles and CRS, as well as changes in transportation options, continued understanding of parents' behaviors around CRS use may lead to improved child passenger safety efforts targeting high-risk groups.