Research In Action
Research In Action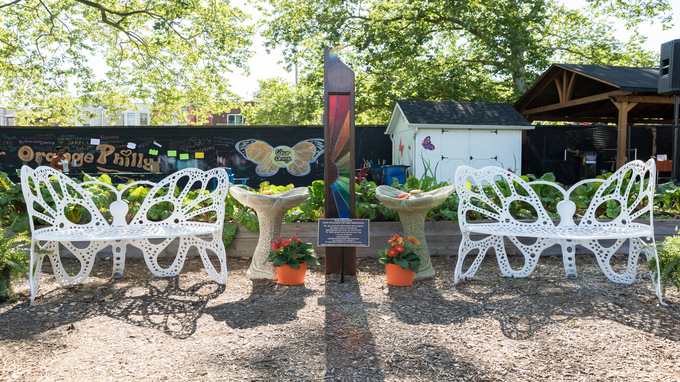 Opening the Philadelphia Gun Violence Victims Memorial
Moderator's Note: Today, we are pleased to welcome a guest blog post from MaryPat Scorzetti, MFA, Volunteer Lead for Moms Demand Action for Gun Sense in America – Philadelphia Region.
"When there's a deep wound, our country tries to heal it by giving it a day...because 'to never forget is woven into our DNA'."  In his recent video essay for CBS News, Lee Cowan remarked that Memorial Day celebrates military members who died protecting the United States and Sept. 11 victims are remembered every year with a national ringing of bells. Where, he asked, was a day, monument or grand fountain designated to recognize the thousands of lives lost to the ongoing epidemic of gun violence in our country?
As a volunteer with Moms Demand Action for Gun Violence in America, I was dumbstruck for a moment for I was part of a team preparing to open The Philadelphia Gun Violence Victims Memorial, days later, on June 4, the observance of National Gun Violence Awareness Day/Wear Orange Weekend. Since 2018, Americans across the country honor victims of gun violence on this weekend.
​Opening a Memorial in Philadelphia
The Philadelphia Gun Violence Victims Memorial in The Garden at the Nicholas and Athena Karabots Pediatric Care Center, part of Children's Hospital of Philadelphia's Care Network, opened with a community event. The Memorial space features a hand-made stained-glass sunrise pillar, offset by two butterfly shaped benches and birdbaths. It is nestled in the concentric, circular and lush garden beds of an urban oasis that produced over three tons of vegetables for the surrounding community last year.
In a program led by Joel Fein, MD, MPH, an attending physician in the Emergency Department and co-director of CHOP's Center for Violence Prevention, survivors lifted their voices in song, expressed their communal grief and hope through dance and shared their feelings about gun violence in spoken word poetry. Survivors were encouraged to add their loved ones' names to a brilliantly-colored chalk mural featuring a butterfly on the garden walls designed by local artist JC Zerbe. The names of victims were also painted onto rocks that were left in the space - the first permanent memorial honoring lives lost to gun violence in the City of Brotherly Love.
The Memorial is the culmination of a two-year collaboration between the Center for Violence Prevention and Moms Demand Action with support and guidance from Philadelphia community gun violence prevention organizations EMIR Healing Center, National Homicide Justice Alliance, Mothers In Charge and D.I.V.A.S. Ministry Group. Dr. Dorothy Johnson-Speight, founder and National Executive Director of Mothers In Charge, described the space as created to provide "peace for those of us living with unbearable pain."
Gun violence survivors from Moms Bonded By Grief and National Homicide Justice Alliance place rocks with the names of their loved ones in a birdbath at the Philadelphia Gun Violence Victims Memorial.
The Climbing Toll of Gun Violence
As a country, we are in pain, shock and still reeling from the racially motivated violent shooting deaths of shoppers in Buffalo, NY and the inexplicable massacre of 19 elementary school students and their two teachers in Uvalde, TX by an 18-year-old armed with an automatic weapon. And yet, consider the following:
This escalating public health crisis leaves a community of suffering survivors – parents, siblings, neighbors, witnesses, healthcare providers and law enforcement -- in its wake. Cowan pondered that only when we, as a nation, find the courage to put an end to gun violence will we be ready to acknowledge the monumental loss of lives due to gun violence with a permanent national monument or day. I, other gun violence prevention advocates and 58% of American adults who have been touched by gun violence, counter that leadership, not courage, is what is called for now. According to a Reuters poll of 940 people conducted online the day after the Uvalde shooting, two-thirds of Americans support moderate or strong regulations of gun ownership. Now is the time for brave action on the part of our elected officials to listen to their constituents. Now is the time for the President of the United States to elevate National Gun Violence Awareness Day and Wear Orange Weekend to the status of other national days of memorial and to follow Philadelphia's lead in creating a space for our citizen's collective grief with a national monument to honor lives lost to gun violence in our Capitol.