Research In Action
Research In Action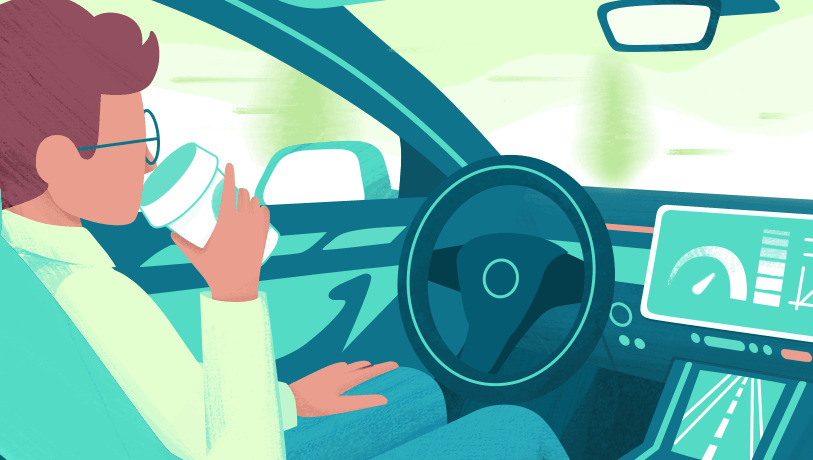 Human Factors and Automated Vehicles
I recently had the pleasure to attend the sixth Automated Vehicles Symposium in Orlando, Florida.This annual conference has become a focal point for all transportation researchers, technologists and safety engineers who work relentlessly to make our roads safer. This year, the Center for Injury Research and Prevention (CIRP) at Children's Hospital of Philadelphia was well-represented with three posters presented by me and two of my colleagues, Thomas Seacrist, MBE and Aditya Belwadi, PhD.
The body of work we introduced to the audience was a reminder to everyone that, even though the expectation is that self-driving or driverless cars will help us reach the Vision Zero objective where no one dies on the road, human factors are crucial to safe deployment of self-driving technology:
Our first poster, "Keeping Drivers Alert When Self-Driving: What Can a Driving Simulator Teach Us?" highlighted findings from exposing a cohort of 60 drivers ages 16 to 83 to autonomous driving technology. 
Our second poster, "Transporting Unaccompanied Minors in Autonomous Vehicles: Results From Driving Simulator Exposure and Focus Groups," highlighted expectations about the use of this new technology from both parents and kids. 
Our third poster, "Predictive Modeling with Vehicle Sensor Data: Mining the SHRP2 Naturalistic Driving Data for Simulated AEB Application on Real Crashes," presented results from mining the phenomenal federal Strategic Highway Research Program (SHRP2) database. This collaboration with colleagues from Drexel University, Christopher Yang, PhD and Santiago Ontañón, PhD, is supported by the National Science Foundation (NSF) and the Center for Child Injury Prevention Studies (CChIPS).
For this third poster, predictive analytics and modeling were deployed on the SHRP2 database to assess the efficacy of Automatic Emergency Braking (AEB) to prevent or mitigate rear end crashes. We identified real life rear-end crashes and created a dynamic model of the vehicle and environment. A simulation of AEB application on these real life circumstances permitted an assessment of the technology. A total of 97 rear-end striking crashes were identified with drivers in four age groups: teens (ages 16-19); young adults (ages 20-24); adults (age 35-54), and older adults (age 70+). Counterfactual simulations were conducted using MATLAB to determine if AEB would have prevented the rear-end striking crashes:
Our hybrid real-world/simulated events found AEB to be very effective, preventing 80 percent of rear-end striking crashes; this is a larger number than the 40 percent previously reported in the literature.
Half of the crashes that were not prevented occurred during inclement weather conditions; further research will be needed to address these cases.
For now, we applaud the National HighwayTraffic Safety Administration (NHTSA) for encouraging US auto manufacturers to adopt this technology; 99 percent of all new cars sold in the US will include automatic emergency braking systems as standard by 2022.