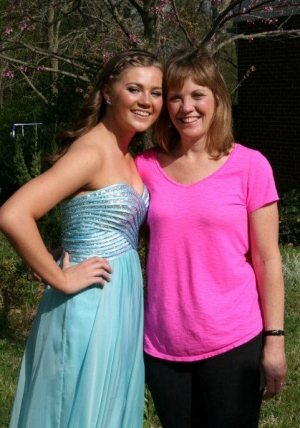 With my daughter on prom night
May is Global Youth Traffic Safety Month™ (GYTSM) and the perfect time to remind parents and teens to promote safe driving and passenger behaviors during prom, graduation, and other special events that mark the end of the school year. The National Organizations for Youth Safety (NOYS) sponsors GYTSM and holds events, contests, and promotions to raise awareness about the risks and dangers teens face on the road.
As a longtime advocate for teen driver safety and mother of two teens--one fully licensed and one learning to drive--I value national awareness initiatives like GYTSM to remind teens and parents to be extra vigilant in promoting behaviors that reduce crash risk. Even the most responsible novice teen drivers need reminders to avoid situations that increase their crash risk: driving at night, driving tired or impaired, and driving while distracted from cell phones or peer passengers.
Although we have made great strides in reducing the number of crashes involving teens behind the wheel, crashes remain the leading cause of death for teens. What's the best advice for new teen drivers to follow on prom night or any time to reduce rookie mistakes that could cause a crash?
Limit the number of passengers. Teens driving multiple passengers is a tragic mix.
Encourage mutual respect in the car. Buckle up, drive safe, and avoid distractions.
Get directions to the event and visualize the destination before turning the key.
Take a cell phone break. Complete any call or text before starting the car and check in with parents only after arrival.
Have another way to get home. Even the most well-laid plans can fall apart. Avoid unsafe driving situations by lining up an alternative ride just in case as part of prom or graduation planning.
Teen driver safety is a global community health issue. We all have a stake in helping teens drive safe. Visit teendriversource.org for more information, including this fact sheet for parents.