Moderator's note: We are happy to welcome Sharon Levi from Beterem as our first guest blog contributor, who describes an interesting project to reduce backover crashes in Israel. For more of Dr. Winston's trip to Israel, see parts one and two. 
By Sharon Levi
Backover crashes are common in the Arab community in Israel; in the years 2007-2010, 38 children died in backover crashes in this community. This is due to a lack of play areas away from vehicles, children playing near vehicles without supervision, and a lack of knowledge regarding the methods to prevent these crashes.
Beterem-Safe Kids Israel is entering the second year of a large scale Backover Crash Prevention project in the Arab community, funded by Israel's National Road Safety Authority. The project incorporates elements of social change and education. University students receive academic scholarships to provide face to face education to families in their neighboring communities. In 2012, 35 Arab students were trained to serve as agents of change and educators within the community. The students approached parents of young children age 0-4 in well baby clinics, nursery schools, and community centers. Over 23,000 families in 13 towns across Israel received face to face education, utilizing culturally appropriate pictorial content, pamphlets and an accompanying video that included a real-life story. The education message includes concrete methods to prevent backover crashes, including adaptations to the environment and modification of child and driver behaviors.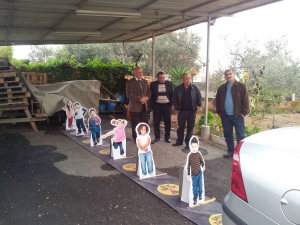 Demo of backover crash
Student teaching the group
For 2013, the project has been extended and will include 27 university students, and an additional 12,500 families in 12 towns. A follow up telephone survey has been conducted with 430 participating families and 100 controls from neighboring towns. The analysis of the survey will be complete in April.
Thank you Sharon! Stay tuned next week for Dr. Winston's final entry about her trip to Israel.